Rough carbide and tooling
Among all tungsten carbide and heavy alloy products that we produce, some are now the core of our business:
Our manufacturing process:

1.Powder mixing
The powder preparation is entirely carried out in our workshops. This phase can be likened to a culinary realization, the chemical components constitute the ingredients which will make it possible to obtain according to their dosages the expected grade. ((Table of grades))
For each batch prepared, a sample is taken and tested by passing all the manufacturing tests.
This will allow our laboratory to validate this batch.
2.Compression
Depending on the type of parts we adapt the pressing method (isostatic, mechanical, pelletizing)
We mainly use isostatic compression: this process avoids the use of paraffin, thereby reducing the risk of porosity that may appear after the sintering phase.
The mixture is introduced into polymer socks which are placed in the press tank.
A hydraulic pressure of more than 2000 bars is applied transforming the powder into a block (look like chalk) which can be machined.
3.Machining of green carbide
This operation is particularly delicate because the non-waxed material has a consistency similar to that of chalk and is therefore very brittle.
4.Sintering
The machined carbide parts are placed on graphite trays, inserted in an oven and heated at temperatures close to 1400°.
During this phase the piece loses 50% of its volume (20% on the line).
The blank obtained has reached its final hardness and can therefore, after inspection, be dispatched or continue its process in our finishing workshops.
5.Finishing
We can also carry out any grinding, lapping, brazing, electroerosion operations.
Our grades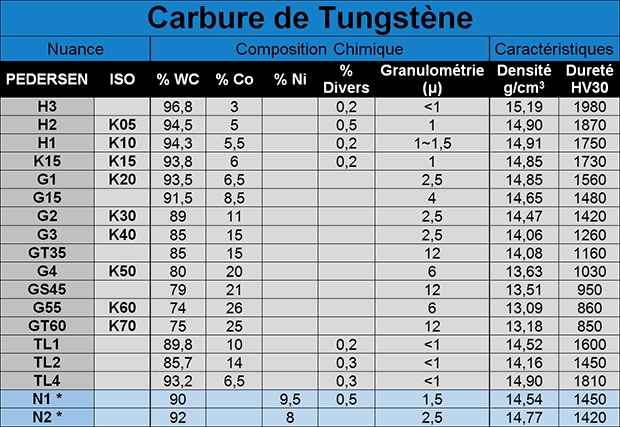 *N1 et N2 : Carbures liant nickel pour vos applications alimentaire anti corrosion, amagnétique,…
Notre fiche produit en carbure de tungstène à liant métallique cobalt